We want to help your workflow by sharing with you the newest, coolest free downloadable vectors out there. If you think that we should add a great resource you're using, don't hesitate, let us know! 
Read Article →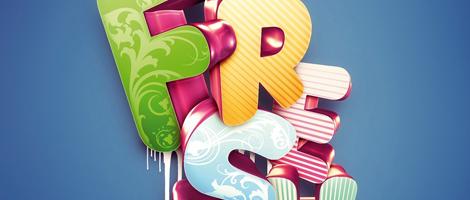 When you read vector tutorials, you mostly think about vectors created in Adobe Illustrator, Corel Draw or other vector editing software. Adobe Photoshop has other features than just simple photo editing, you can create vector shapes and edit them.
Read Article →
In this tutorial, you will learn how to create a tasty chocolate ice cream in Adobe Illustrator. You will learn how to draw basic shapes, modify them and apply gradient for more realism.
Read Article →
Show your love for creativity with 97% off 91 beautiful design products worth $1,481 for just $39! All other bundle items come with our Standard License.
Read Article →
Bring in a new year with 97% off 87 stunning design products worth $1,660 for just $39! All bundle items come with the Standard License by CreativeMarket.
Read Article →

Sometimes you need to create an illustration about a fruit, a vegetable or another food. How to start? What to do, to get a realistic…
Read Article →
Logos are a tiny symbol, but they accomplish a lot. They stand in as a visual representation of a company's values, products, and customer service. Since the human brain…
Read Article →
Today we give you another freebie from our newest partner GraphicSprings Logo Maker. Download free the 60 Flat Web Icons pack and use it for your next design or web based projects.
Read Article →

As Christmas approaches, what better than create Christmas themed tutorials? By learning these tutorials you can prepare holiday gift cards, greeting cards, upgrade your website with Christmas elements or you can just have some fun.
Read Article →